LCpl Jacob Ross Detachment # 1425
meets the 3rd Monday each month at 1900
at the American Legion Post 42, 200 Rockpile Blvd., Gillette, WY 82716
Enter by the side door, go up stairs to second floor.
Their Commandant is Lee Boyd. His Phone is (307) 689-6031.
Their Adjutant Paymaster is John Nulle. His phone is (307) 660-3758.
We can be reached at: grinder3758@yahoo.com.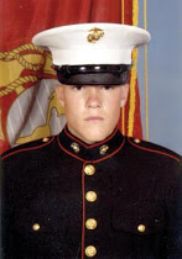 Jacob A. Ross attended Campbell County High School, where he played soccer and was a swimmer. He was a state champion in the Skills USA carpentry competition. He worked for Shober Builders as a teen, before entering the U.S. Marine Corps. He was assigned to the 2nd Marine Battalion, 2nd Marine Regiment, II Marine Expeditionary Force at Camp Lejeune, NC. LCpl Ross died at 19 years of age on March 24, 2010 in a firefight in Helmand Province, Afghanistan.